Cooking With Soy Program a Success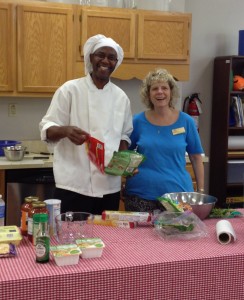 The "Cooking with Soy" program held on September 10, 2012 was a huge success! Swain and Graham County Cooperative Extension hosted the event at the Swain County Extension Center.
Laura Rogers of the North Carolina Soybean Producers Association, shared handouts and information about the benefits of soy.
We had a wonderful group of enthusiastic and willing participants who made the whole experience so much fun! Participants enjoyed preparing a delicious soy meal, alongside Chef, Alex Forde. Chef Alex shared some of his favorite soy recipes and everyone jumped right in to make the dish of their choice. The various dished included: spaghetti and tofu meatballs, edamame hummus, sweet potato crumpets, salad with edamame and for dessert…soy applicious cookies! The food was yummy!
Thanks to Laura Rogers and Chef Alex for a great program and for taking the time to visit Swain County and share their love of soy with us.

Haven't been brave enough to try incorporating soy into your tried and true favorite recipes? You may be surprised to learn how easy it is. Click here to learn more . . . 
Here is some other great soy resources:
North Carolina Soybean Producers Association, Inc.
United Soybean Board (USB)
NC State University