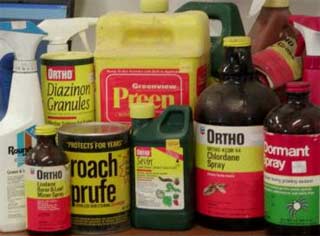 Do you have pesticides at your home, business or farm that you no longer need or use? If your answer is 'yes," then you'll be interested to know that The NC Department of Agriculture's Pesticide Disposal Assistance Program, in cooperation with the Swain
County Extension Center and Swain County Government, will be offering this Pesticide Collection Day for residents in Swain and Jackson Counties and the surrounding area.
County Agricultural Extension Agent Christy Bredenkamp will be the local contact for the event. The Collection will be from 10:00 a.m. to 2:00 p.m. on Wednesday, October 10th at the Recycling Center in Bryson City, off of Old Hwy. 19.
Pesticides that will be accepted include the following: insecticides, herbicides, fungicides, fumigants, rodenticides and growth regulators. For pesticides with unrea
dable or missing labels, please contact the Cooperative Extension Office for instructions. Please save any portion of the label to help identify the material so you can be assisted with disposal. Unknown materials cannot be accepted.
Other hazardous materials, such as paint, antifreeze, solvents, etc. will not be accepted at this collection day.
Don't miss this great opportunity to get ride of your unwanted dusty old pesticides! For additional information, contact your Extension Center at phone # 586-4009 or 488-3848.