Family Caregiving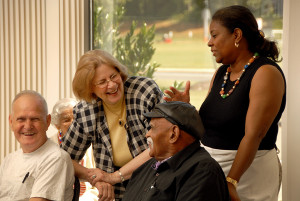 As people live longer, many are finding themselves becoming caregivers for dependent older adults. Although most adults over the age of 65 are self-sufficient, a significant minority are limited in their ability to do activities like getting out of a chair, or bed, dressing, bathing, or toilet routines. Family members and other unpaid helpers, such as friends and neighbors, provide most of the eldercare in the home.
Many people who are caregiving for frail, vulnerable, ill, or disabled adult report that the job can be stressful and full of challenges. For some, the caregiving duties are relatively easy and include grocery shopping, writing checks, doing laundry or arranging for paid helpers to do chores and home repairs. In other cases, though, the older relative is totally dependent on caregivers around the clock. Family caregivers who attend to people who are bedbound must learn to bathe, dress, lift and move their relatives.
Sometimes being a caregiver means being companion, entertainer, nurse, doctor, advocate, pharmacist, chauffeur, parent, and maid, among other roles. These multiple roles can be overwhelming for one person to manage. These responsibilities can often place demands on the caregiver in terms of high levels of stress, frustration, depression, guilt and health problems.
For adult children, especially those with jobs and families of their own, caregiving responsibilities may overload them with too many duties. Middle-aged adults are sometimes described as members of the "sandwich generation," squeezed between the needs of their parents and their children, with no time to attend to their own needs.
Caregiving can test a person's patience even during the best of times. Professionals who work with caregivers suggest a few strategies for coping with caregiver stress:
It seems simple enough, but take care of yourself. Many caregivers find themselves so busy caring for others that they neglect their own routine health care or delay seeing a doctor until new problems are in an advanced state.
Share the load. Find others to help out and to talk to. Often other family members, friends, and neighbors will lend a hand. Express your feelings and understand your emotions. It's important that you find someone with whom you can talk openly about your situation and emotions.
Tap community resources. Learn about resources available to help family caregivers, including support groups, in-home services, respite care or adult day care.
Remember to give yourself credit for things you've done right. Don't fail to give yourself the credit you are due.
Look on the bright side to improve your quality of life. Find the humor in daily life and allow yourself to laugh. When you do get a break, do something you really like, without feeling guilty.
Although most research focuses on the burdens of being a caregiver, many people report that helping family members is very rewarding and satisfying. Many family members embrace the role of caregiving, even if it means a disruption in plans, routines and considerable self-sacrifice.
In some cases, caregiving offers opportunities to talk about things, time to get to know each other, share family stories and history. Caregivers often grow closer with their siblings and some feel that it brings the family closer. When adults care for their parents, they often feel they have the chance to give something back to their parents.
If you are not a caregiver, but know someone who is, consider giving them a call to see if you can help. Offer to run an errand, take a casserole for dinner, or maybe just lend an ear so they can express their feelings. Reaching out to a caregiver might help them continue with their duties, relieve a little stress and provide emotional support.
For more information on Eldercare or Aging with Gusto, contact the Swain County Cooperative Extension at 488-3848. For more events sponsored by the Swain County Extension office, check out our Facebook page or our website at: http://swain.ces.ncsu.edu/