Baking Soda Magic – Part 1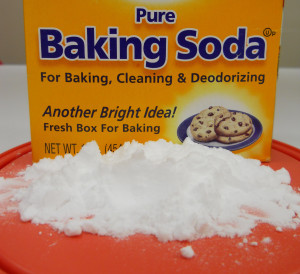 There's a lot of magic in baking soda. Baking soda has specific capabilities including cleaning, deodorizing, leavening, buffering and it can be used as a fire extinguishers. With a product packing that much power, baking soda deserves a second look at a few helpful ways it can be used around the household. Let's review the many uses for baking soda in the kitchen.
Baking soda is the ideal all-purpose cleaner for the kitchen. Who wants to use harsh chemicals on your counters and sink? Just sprinkle baking soda on a damp cloth and wipe clean, rinse thoroughly, then dry. Try it on counters, sinks, cutting boards, microwaves, plastic containers, back splashes, over tops, and range hoods.
Remove those coffee and tea stains and eliminate bitter off-tastes by washing coffee maker parts and coffee and teapots in a solution of ¼ cup baking soda in 1 quart of warm water. For stubborn stains, soak the coffee pot overnight in the baking soda solution and dish detergent.
Baking soda can be used to deodorize the dishwasher. Not ready to run the dishwasher, but cannot stand the smell of the tuna you had for lunch? Just sprinkle a handful of baking soda on the dishes or in the bottom of the dishwasher to absorb these odors.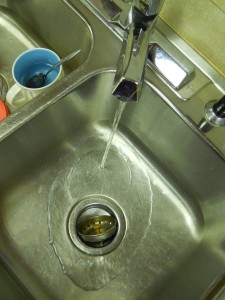 You can also use baking soda to deodorize the drains and disposal by pouring baking soda down the drain while running warm tap water. The baking soda will neutralize both acid and basic odors leaving a fresh smelling drain. We all know the trick of placing a box of baking soda in the fridge or freezer, but when you replace a box from fridge, simply pour the old box down the drain to get extra mileage from the baking soda.
Does the cutting board still smell like the garlic you chopped up yesterday? Sprinkle baking soda on a damp cloth, scrub and rinse. Now, you are ready to cut those onions.
Keep your plastic food storage containers and thermos smelling fresh. Wash them with baking soda sprinkled on a damp cloth. For lingering odors use a solution of 4 tablespoons of baking soda to 1 quart of water.
Baking soda is an inexpensive way to shine silver pieces in no time at all. Use a baking soda paste made with 3 parts baking soda to 1 part water. Rub onto the silver with a clean cloth.. Rinse thoroughly and dry for shining sterling silver and silver-plate serving pieces.
No more heavy scrubbing pots and pans. Baking soda penetrates and helps lift off baked-on, dried-on foods. Shake on a generous amount of baking soda, add hot water, and dish detergent, let sit for 15 minutes and wash as usual.
If you are hand washing dishes, boost the performance of dishwashing liquid detergent by adding 2 heaping tablespoons of baking soda to the water. This helps to cut grease and food on dishes, pots and pans. For cooked on foods, let them soak in the baking soda/detergent water first, then use baking soda on a damp cloth as a scouring powder that cleans, but does not scratch.
Get rid of those scuff marks on your no-wax floor. Just sprinkle baking soda on a damp cloth or sponge, rub clean and rinse. Baking soda will remove the scuffmark without scratching the floor.
Stay tuned for more helpful tips using baking soda. In next month's segment, find out how useful baking soda is in other areas of the house.
LIKE Swain County Cooperative Extension on Facebook