Code of the West
The "Code of the West" was first chronicled by the famous western writer, Zane Grey. The men and women who went westward during the expansion of the United States were bound by this unwritten code of conduct. The code's values of integrity, honesty,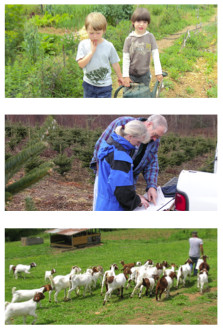 stewardship and self – reliance guided their decisions, their actions, and defined their survival. Even though Jackson and Swain counties are obviously not in the rugged Western United States of Colorado or Montana, we are in the rugged mountains of Western North Carolina. Our area was once pioneer country just like the west was a hundred years ago. Even though it seems like those pioneer days have long past, we still retain a degree of isolation and independence, while being community – minded.  Our diverse landscape and climate creates both challenges and opportunities. These rural characteristics define our lives and require us to follow the loose principles of the "Code of the West." This may be challenging, but the fact is, this is part of rural living, and it is likely what drew our families here in the first place. These principles include the following:
"Reciprocity is the Rule." Being neighborly is a two-way street. The road you help repair this Saturday from a summer heavy thundershower helps everyone in your neighborhood get to work come Monday. In turn, having a strong workforce will improve the community and lead to benefits for all including you.
"Work Together." Rural residents who come together often have more success as a community than those who go it alone. Working collectively makes light work for everyone, while giving you and your neighbors individual freedom. Adjacent landowners can work collectively to combat noxious weeds in pastures, which will help save money and labor for each as well as improve the stewardship of our resources.
"Respect Agriculture." Understand that some practices, such as burning brush piles or fields and running farm machinery during the dark are common practices and necessary for agriculture operations to exist in our community. Also, keep in mind these agriculture operations help maintain the rural characteristics we've come to appreciate.  The farmer helps keep us all alive. "No farms, no food."
"Reduce Tensions." Try to maintain peace by showing respect for each other. One way is to control your livestock and pets from roaming onto others' properties. Sometimes mending fences builds future friendships.
"Honor Privacy and Individual Responsibility." People are often unaware of private property lines; however, it is still the responsibility of the individual to know whose land they are on regardless if it is fenced or not. Research maps closely. Remember to always get permission before entering private lands even if you are just walking across the woods.
"Be Prepared and Self-Reliant." Consider that the nearest emergency services may be 30 or more minutes away or that the road you're driving on today might be impassable when the next snowstorm strikes. At these times the only help you'll have is yourself or possibly your neighbor; therefore, also consider "Being Neighborly."  For example, plow your neighborhood roads.
In general, the "Code of the West" reminds us that respecting our neighbor's endeavors, maintaining self-reliance, and being neighborly are the roads to individual freedom for the community. The friendly wave between you and your neighbors as you pass each other on the road each morning is more than just a wave; it is a symbol of our rural living Code of Conduct. It is a promise to  "Take Care of Others and Yourself."
~ ~ ~ ~ ~

Since 1914, the underlying philosophy of the national cooperative system has been "to help people help themselves" by taking the university to the people, especially in rural America. In keeping with that American spirit of independence and being neighborly, the Jackson and Swain County Cooperative Extension offer information to help the citizens who wish to follow in the footsteps of those rugged pioneers. To that end, we can help provide you with the information you need to improve your life by becoming more self-reliant through agriculture, home economics and youth development.
Please contact the Jackson or Swain County Cooperative Extension Centers at 586-4009 or 488-3848 or email robert_hawk@ncsi.edu for more information.
Article content from the North Carolina Cooperative Extension and Colorado State University Extension.
Was the information on this page helpful?
This page can also be accessed from:
go.ncsu.edu/readext?240126