Maintain, Don't Gain Holiday Challenge
Thanksgiving is here and so begins the many wonderful celebrations that include family, friends and co-workers. Holiday meals are often made of special dishes, comfort foods, treats and desserts we only get once, maybe twice a year which can add to the temptation and opportunity to overeat.  With all the excitement, it's easy to lose track of healthy eating and over indulge.  Americans tend to gain between 1 and 5 pounds during the holiday season and then not lose the weight after.  Over time this extra weight adds up.
The Eat Smart, Move More Maintain – Don't Gain Holiday Challenge runs from Thanksgiving until New Year's Eve and is a free online program that encourages participants to maintain their current weight during the festive season.  The Holiday Challenge includes weekly email newsletters containing strategies to increase physical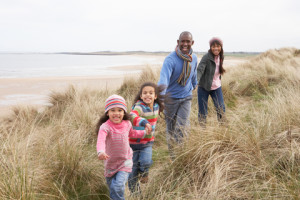 activity, making mindful choices and eating healthy.  Participants can choose to receive daily motivational tips that provide additional support. These daily tips are quick and simple ideas to incorporate a new healthy behavior to try that day. The Holiday Challenge provides tools for participants to track their progress, learn practical tips, and recipes – all designed to help maintain a healthy weight.
Below are several tips provided by the Maintain – Don't Gain Holiday Challenge to help you successfully navigate the season without the extra pounds.
Look before you leap. It pays to scan the table or buffet before putting food on your plate.  Choose the foods you really love and skip the ones that don't thrill your eyes and taste buds. It's okay to be picky and yet, enjoy some of your favorite holiday foods.
Fill up on vegetables and protein. Choose lighter cuts of meat such as turkey or chicken breast, pork loin or beef sirloin, which are lean and delicious, but also keep you full without adding too much fat. Another easy way to keep calories in check is to eat more veggies.
Go light on sauces and dips. Look for light glazes and vinaigrette dressing and avoid creamy casseroles or dips. Green bean casserole, however tasty, has added calories with its creamy sauce and fried onion topping. Gravy can be another high calorie culprit. Just add a small dab of gravy for extra flavor.
Rethink your drink.  Eggnog is known to be high in calories, but watch out for hidden calories in other holiday beverages. Avoid drinks that have more than 150 calories per serving.
Stop when you are full.  Pace yourself. Remember that it takes 15-20 minutes for your stomach to register when you are full. Go slow, savor your food and stop when you are full. Wait at least 20 minutes before going back for seconds.
Stand or sit away from the food to beat temptation. Food within arms reach leads to mindless eating. Once you've filled your plate, choose a seat far away from the buffet table to reduce temptation.
Why not give yourself the gift of health by joining the Maintain- Don't Gain Holiday Challenge? Be sure to visit the Eat Smart, Move More website at www.esmmweighless and check out more tips and expert advice on healthy eating and to register for the holiday challenge.
Was the information on this page helpful?
This page can also be accessed from:
go.ncsu.edu/readext?255248