Selection & Care of Christmas Trees
Find this article at:
go.ncsu.edu/readext?328559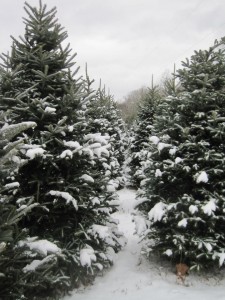 Celebrating the Holiday Season with a real Christmas tree is a long-standing tradition. Each year, 25 to 30 million American families celebrate the holidays with a fresh, farm-grown Christmas Tree. Here in Western North Carolina, an individual driving on our interstate highway and state roads will inevitably observe truck after truck filled with freshly cut Fraser Fir Christmas trees. You may be wondering where are all of these trees going? Trucks leaving Jackson and neighboring counties are heading all over the Country to large and small retail lots run by church and civic groups, boys clubs, scout groups, and large chain stores. A large percentage of trees will find a home in Georgia, South Carolina, and Florida, with many of our local trees making their way up along the east coast, the midwest, and as far west as California.
For many families, selection and purchase of a Christmas tree is an annual tradition. Indeed, bringing home the tree often signals the official start of the holiday season. Proper selection of a tree, like any other product, will help to make the season even more enjoyable. With today's live-tree market, healthy, fresh, fragrant, and affordable Christmas trees are abundant and available to anyone who wishes to have a real tree. By following a few simple procedures, tree hunters can select trees which will meet their needs throughout the holiday season.
In North Carolina, there are a number of native-grown trees available for purchase, including Fraser Fir, White Pine, Virginia Pine, Red Cedar, Leyland Cypress and others. Of course Fraser Fir is widely known for its excellent qualities of fragrance, good needle retention and freshness. It is the number one Christmas tree grown here in Western North Carolina, and is considered the "cadillac" of all Christmas trees!
Freshness, which generally equates to the water content of a tree, is important when selecting a Christmas tree. For certain species, freshness can be determined by the condition of the needles. Fresh needles of firs and spruces will break when bent in a manner similar to a carrot but, the needles are not brittle. Pine needles will break only if they are very dry. You can also bounce or shake a tree to see if needles are firmly attached. Older, dead needles should fall off, but not the younger, green needles.
Caring for a Tree After Purchase
Once you have returned safely home with your Christmas tree, its continued freshness depends upon the type of care you provide.
The tree should have a fresh cut across the bottom, about 1 inch above the old base. This removes any clogged wood that may not readily absorb water. Next, the tree should be placed in a stand with a large reservoir of water and located in the room of preference. Depending upon the size, species, and location of the tree, it may absorb a gallon of water in the first day, so it should be checked frequently and re-watered as necessary. Although some people advocate placing various substances in the water to preserve freshness,  I recommend that homeowners simply keep the tree well-watered with pure tap water. As long as the tree is able to absorb and transpire water, it is reasonably fire-resistant.
It is important that the tree always be kept watered and not allowed to dry out. If the tree does become dried out, it may not be able to adequately absorb moisture once it is re-watered, and it will shed its needles prematurely. Taking the tree down and cutting about a 1-inch slice off the bottom of the trunk, then replacing the tree in the stand and re-watering, will remedy this problem. Although inconvenient, it is the only way to prevent early needle loss. Overall, a good rule of thumb is to treat a green Christmas tree just like a fresh bouquet of cut flowers.
Finally, locate your Christmas tree in a safe place, preferably near a wall or corner where it is not likely to be knocked over. Keeping the tree away from heat sources such as hot air ducts, wood stoves, fireplaces, etc., will help to preserve freshness and lessen fire danger. Similarly, light cords and connections used in decorating the tree should be in good working condition. Lights should always be turned off at bedtime or when leaving for an extended period of time.
For more information on the selection and care of your Christmas tree contact the Swain County Cooperative Extension Service at phone # (828) 488-3848.