Summer Equals Time for Tea!
Find this article at:
go.ncsu.edu/readext?362006
You are not alone if you enjoy drinking tea, since there are about 37 billion glasses of iced tea served in the U.S. each year. Black tea makes up three quarters of all the tea consumed in the country.
You probably know that fruits and vegetables are full of antioxidants, but did you know that brewed hot and iced tea also contain antioxidants?
Tea is a natural plant food and offers many health benefits including its protective role against certain types of cancer (oral, digestive, lung and colorectal) stroke and heart disease. The types of antioxidants found in tea are called flavonoids. These antioxidants help protect the body from harmful free radicals, which can lead to chronic diseases.
Brewed correctly, you can enjoy a glass of a favorite southern drink. However, brewed tea is capable of supporting bacterial growth. Tea leaves can become contaminated with bacteria during the growing, harvesting and drying process. Brewed tea is often left at room temperature for hours before ice is added or refrigerated before serving.
To be on the safe side, tea should be brewed with water hot enough to kill microorganisms (195 degrees). The tea should be refrigerated immediately after brewing.
Making "sun tea" by steeping tea bags in containers of water warmed by the sun is at a higher risk of bacterial growth because the tea is brewed at low temperatures.
Other safety tips in preparing tea is to make sure the pitcher is cleaned between uses, do not store brewed tea at room temperature for more than 8 hours and do not drink cloudy tea with an off odor.
Store tea bags or loose tea in a dark, cool and dry place away from strong odors and moisture. Do not store tea bags in the refrigerator. Do not store tea in containers above the stove because it is too humid and warm. You can store tea bags in a freezer container in the freezer.
Try these flavorful recipes to add a little variety to tea:
Cape Cod Cooler – Makes 4 (8 oz.) servings
3 cups boiling water
3 glass size regular or decaffeinated tea bags
1/3 cup sugar
1 cup chilled cranberry juice cocktail
1 Tablespoon lemon juice
In teapot, pour boiling water over tea bags; cover and brew 5 minutes. Remove tea bags, stir in sugar and cool. In a large pitcher, combine tea with remaining ingredients. Serve with ice.
Minty Green Tea Lemonade – Makes 8 servings
4 cups brewed Green tea
1 can (12 oz.) frozen lemonade concentrate
2 ½ cups water
½ cup loosely packed fresh mint leaves
In 2-quart pitcher, combine all ingredients; chill at least 2 hours. Strain, if desired. Serve in ice-filled glasses. Garnish with lemon wedges.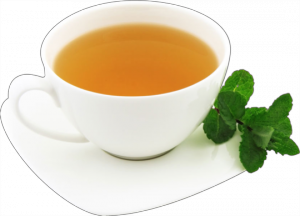 Five –Spice Tea
4 regular tea bags
4 cups cold water
2 Tablespoons sugar
¼ teaspoon five-spice powder
Bring water to a boil. Put teabags and spice powder in teapot or pitcher. Add boiling water and allow to sit 5 minutes. Remove tea bags and stir in sugar.
Sources: University of Florida Extension, University of Georgia Cooperative Extension, University of Kentucky Cooperative Extension, Washington State University Extension