What Is Avian Influenza?
Find this article at:
go.ncsu.edu/readext?367848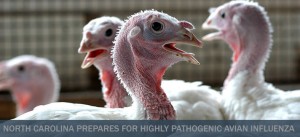 Avian Influenza aka bird flu has finally made its way to the US this year and while it has missed North Carolina so far we are just starting to experience the far-reaching effects of this disease. You may have noticed the increase in egg prices and your turkey sandwich is likely to cost a little more soon, but this is only a minor inconvenience compared to the loss of jobs and income to the growers and poultry workers in these affected states.
This outbreak started on the west coast and has been traced back to migratory waterfowl. After a few cases in the Pacific flyway it appeared if the Midwest along the northern end of the Mississippi flyway. There it found its way into some commercial poultry flocks reeking havoc on turkey and egg production.
With the slowing of reported cases in the Midwest, North Carolina's greatest threat will likely be this fall when the migratory waterfowl start heading back south. The USDA & NCDA are taking a very proactive approach and are preparing to respond swiftly to any outbreaks.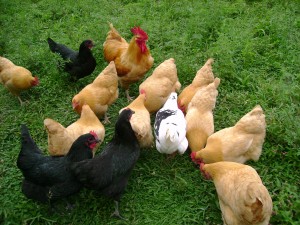 Influenza in poultry falls into two groups: low pathogenic avian influenza (LPAI), or highly pathogenic avian influenza (HPAI). Similar to influenza symptoms in people, birds infected with LPAI usually experience only mild signs if any, including respiratory signs such as conjunctivitis and nasal discharge, ruffled feathers or a drop in egg production. Unlike LPAI, the first indication of HPAI in poultry is sudden death, often without signs of illness.
In the last 40 years, there have been introductions of LPAI across the country, all of which have been successfully eliminated. AI symptoms/signs include nasal discharge, unusually quiet birds, decreased food and water consumption, drop in egg production, and increased/unusual death loss in your flock.
NCDA&CS has worked with the poultry industry and other state and federal agencies to prepare for and respond to introductions of influenza in poultry. The state's voluntary cooperative control plan includes education, monitoring, reporting and response. Testing for influenza in poultry is conducted through our Animal Disease Diagnostic Laboratory system. Commercial and non-commercial poultry flocks are routinely monitored for influenza.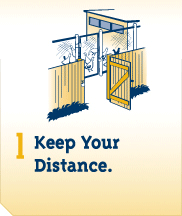 The N.C. Department of Agriculture and Consumer Services is requiring all poultry owners, regardless of the number of birds, to register with NCFarmID. This will facilitate the department in alerting poultry owners about an outbreak, especially owners in close proximity to a positive farm. Anyone already part of the National Poultry Improvement Plan is exempt from this requirement.
Information gathered through NCFarmID registration is used solely for animal health purposes and is confidential. This critical data will provide animal health officials with necessary contact information in case of an animal health concern, and help identify animals and premises that may have been affected.
Visit this website for more information onAvian Influenza: http://www.ncagr.gov/avianflu/
Please report sick birds to 1-866-536-7593 or 919-733-7601 (NCDA).
Call Robert J. Hawk with Local Extension Center at 586-4009 or 488-3848 if you have any further questions regarding Avian Influenza.
Article written by the following: Richard Goforth Area Specialized Agent, Agriculture – Poultry Union County Center And Office of the State Veterinarian N.C. Department of Agriculture and Consumer Services