WNC AgOptions: Grants for Diversifying Farmers Now Available
Find this article at:
go.ncsu.edu/readext?370391
Posted On

August 18, 2015

WNC Agricultural Options is now accepting grant applications from farmers diversifying or expanding their businesses. With funding from the N.C. Tobacco Trust Fund Commission, WNC AgOptions is distributing a total of $178,000 to western North Carolina farmers in 2016. The application deadline is November 13.
WNC AgOptions helps offset farmers' risk of trying new ventures with $3,000 and $6,000 grants. "The WNC AgOptions program is an excellent example of grant funds providing direct support to those who need it most," said Ross Young, Madison County Extension Director and WNC AgOptions steering committee leader. "Our farmers are arguably the most important people in our society. I sincerely appreciate the Commission's interest in supporting Western North Carolina agriculture."
The Commission has supported the mountain region throughout major changes in agriculture, ensuring farmers continue farming. "Farmers in western North Carolina have proven time and time again that they are very innovative, resourceful and creative in how they produce and market their products," said Bill Teague, Chairman of the N.C. Tobacco Trust Fund Commission. "Our board is committed to the success of farmers in the targeted counties and we know these grants will encourage many successful projects."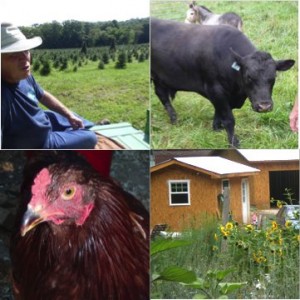 Applicants should contact their Cooperative Extension Agents by Oct. 16 to set up an appointment to discuss their projects. In Swain County, contact Christy Bredenkamp at (828) 488-3848. Applications are available at www.wncagoptions.org or at the Swain County Cooperative Extension (60 Almond School Road, Bryson City). Extension Agents remain a resource for farmers throughout the year as they complete their projects.
Since 2004, WNC AgOptions has awarded nearly $2 million to farmers. Grants often pay for a simple improvement that make a big difference, such as the purchase of an air-forced refrigerator at Perry's Berry's in Burke County. The cold storage reduced Owners Debbie and Terry Perry's blueberry losses from 20 percent in 2014 to less than 5 percent in 2015. Cooling their berries immediately after harvest enhances the quality of their product, which they sell to a variety of customers, including Food Matters in Transylvania County, Fonta Flora Brewery in Burke County and Blind Squirrel Brewery in Avery County.
Wehrloom Honey in Graham County has exceeded their expectations since opening a new retail store in Robbinsville in May. With the help of a WNC AgOptions grant, Owner Jessica Wehr added new products such as spun honey, which is a thick spreadable honey, and bee pollen, which is considered a superfood due to its rich source of vitamins.
Hoopers Creek Botanicals expanded production with a 2015 WNC AgOptions grant, and Owner Wallace Souther says he is able to sell all the medicinal herbs that he can grow. He also secured a contract with Sow True Seeds in Asheville to grow winter squash, which he says he wouldn't have been able to do without the grant. "I feel so honored," Souther said.
WNC AgOptions offers grants to farmers in the following counties/units: Avery, Buncombe, Burke, Caldwell, Cherokee, Clay, Cleveland, Graham, Haywood, Henderson, Jackson, Macon, Madison, McDowell, Mitchell, Polk, Rutherford, Swain, Transylvania, Watauga and Yancey counties as well as the Eastern Band of Cherokee Indians.
Applicants are encouraged to attend information sessions, which will be held throughout the region in the next two months. See below for Grant Informational Sessions dates or check the WNC AgOptions website for exact dates and locations. You may also call Project Coordinator, Jennifer Ferre at (828) 252-4783.
The administrator of WNC AgOptions is WNC Communities, a non-profit organization that has been improving agriculture in the region since 1947. WNC Communities provides a unique forum for leaders in western North Carolina to carry out innovative programs to improve the quality of life for rural communities and to enhance the agriculture economy. "WNC Communities is delighted to serve as administrator for WNC AgOptions," said L.T. Ward, Vice President of WNC Communities. "We are grateful to the N.C. Tobacco Trust Fund Commission and North Carolina legislators for their support for twelve years."
Members of the WNC AgOptions steering committee include: representatives from N.C. Cooperative Extension, N.C. Department of Agriculture & Consumer Services–Marketing Division, WNC Communities, Appalachian Sustainable Agriculture Project and other leaders in agribusiness.
For more information, see the following:
WNC Agricultural Options: www.wncagoptions.org
N.C. Cooperative Extension Centers: swain.ces.ncsu.edu
NC Tobacco Trust Fund Commission: www.tobaccotrustfund.org
WNC Communities: www.wnccommunities.org
_____________________________________________________________________________
You are invited and encouraged to attend an informational meeting about the WNC AgOptions grant program for growers and producers in 2016. Representatives from the WNC AgOptions program will be present to discuss the program, go over the 2016 application time line and answer questions.
THURSDAY, SEPT. 10, 2015 2:00-3:30 p.m. at the Swain County Extension Center in Bryson City, NC
THURSDAY, SEPT. 10, 2015 6:00-7:30 p.m. at the Jackson County Extension Center in Sylva, NC
TUESDAY, SEPT. 22, 2015 6:00 – 8:00 p.m. at the Watauga County Extension Center in Boone, NC
THURSDAY, SEPT. 24, 2015 6:00-7:30 p.m. at the Mountain Horticultural Crops Research & Extension Center in Mills River, NC
TUESDAY, SEPT. 29, 2015 5:30-7:00 p.m. at the Caldwell County Extension Center in Lenoir, NC
EARLY OCTOBER 2015 (DATE AND TIME TBD) at Cherokee County Extension Center in Murphy, NC