StarGirls Camp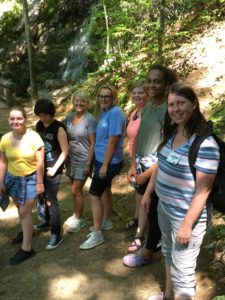 On the ride home from a conference in Raleigh, Heather Gordon, the Jackson County 4-H agent, and I discussed the idea for a summer day camp designed especially for teenaged girls.  We carefully and methodically planned three days filled with educational activities, fun adventures and team building for girls ages 13 through 15.
Our ideas for a summer camp included opportunities to learn about healthy eating, a chance to meet new people and activities to promote self-esteem and to build confidence. We envisioned various activities, including journaling, conquering a high ropes course, mastering a kayak, making hula hoops, and the pure enjoyment from spa day … well, the list was endless.
After three days of many wonderful, exciting and memorable adventures, we learned more from the Star Girls camp than we could have ever imagined … we discovered that we had forgotten the many simple and yet complicated details of being a teenager.  For those of you who weren't with us during our camp, here's a list of what we learned:
Never forget what it is like to be 13 years old.  This is a time of wonder, hope and dreams.  On the cusp of young adulthood, we are finding out who we are with our eyes on the future. Do you remember being grateful for families and friends who stuck with us through this time of self-discovery?  We should never forget those feelings and if we have…let's dig deep and find that 13-year-old.
Music is everything!

 Do you remember listening to your favorite song over and over? The lyrics touched you, made you laugh, and maybe even made you cry.  We were reminded that music can make us feel younger.  We experienced several new and different types of music and we even listened to a band called the Black Veil Brides.  

Taking the first step is the most important

.   Conquering our fears at any age and moving ahead (in spite of your knees knocking together) can leave you feeling invigorated, excited and braver.   Feel the fear, go ahead and take the first step anyway.

Being creative is easy.

 With the perfect opportunity, a few words of encouragement, and the right supplies, no matter the age or skill level, everyone can be creative and express themselves through art.  We learned that everyone can be an artist.

It's never too late to try something new.  

Kayaking might sound like a daring venture, but there are always slow and easy steps to ease into something you have never tried.  We learned that kayaking can even be relaxing.  And, taking a dip in a cold river is always refreshing.

Respect our differences.  

Whatever our backgrounds, or how different our lives might be, we sometimes find that we have small things in common.  We can laugh with each other, we can offer encouragement, conquer our fears together and it's never too late to make new friends.

Lend a helping hand.

 It is perfectly fine to offer help to someone.  Maybe they need to hear a few supportive words to encourage them to finish a high ropes obstacle, or they might need a helping hand in putting the finishing touches on a hula hoop.  Just as important in providing help to someone is to graciously receive help when we need it.  Don't be afraid to ask for help.
We want to thank the inspiring, uplifting and incredible girls who participated in the camp. Also, a special thanks to our community partners who assisted us in making it possible to host the Star Girls camp including the New Century Scholars (Swain, Jackson and Macon counties), the Nantahala Outdoor Center, Fusions Spa, Botanical Reflexology, Swain County Transit, Swain County 4-H and Macon County 4-H.
Was the information on this page helpful?
This page can also be accessed from:
go.ncsu.edu/readext?485796