Honor a Veteran by Planting a Tree
Find this article at:
go.ncsu.edu/readext?748196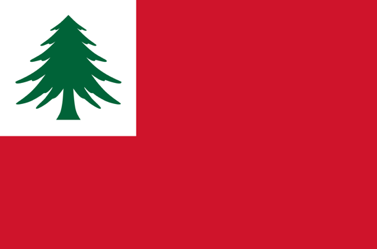 Veteran's Day is a time to honor and thank all military personnel who have served in any branch of the United States Armed Forces. Established in the wake of World War I, the original intent of the holiday was to celebrate world peace and was originally called "Armistice Day."  On the 11th hour of the 11th day of the 11th month in 1918 was when the armistice agreement was signed to end WW I. President Woodrow Wilson signed a proclamation commemorating November 11 as Armistice Day in 1919 and in 1938 it was named a national holiday (Veteran's Day) to say "Thank You" to all the men and women who have served in our armed forces to defend the United States of America.
Did you know the first flag of our country had the symbol of an evergreen tree our Eastern White Pine called the " The Grand Union 1775: Also known as the Continental flag, it is the first true U.S. Flag. It combined the British King's Colours, red, with the flag featuring a white canton with a New England White Pine tree in the center. The White Pine tree was a common symbol representing liberty in colonial New England. The Eastern White Pine tree signified the tree's former importance in shipbuilding and New England's maritime culture, hence the significance of evergreens in our nation's history.
This Veterans Day, honor the legacy of a veteran from your family by planting a tree as a living tribute to say "Thank You,'  while also beautifying the landscape and helping with conservation stewardship. To receive free Norway Spruce seedling(s) please go to one of the locations at times listed below on November 11, 2020. The Norway Spruce is an evergreen that makes a good living memorial tree to plant in honor of a veteran because it can live from 200-400 years and has been in America since the pre-colonial period. It is non-native and minimally non- invasive, especially in the Southern Appalachians (Zones 6-7) since the seeds have a significantly reduced germination rate in areas with hot, humid summers. It is a good reforestation tree for our dying Eastern (Canadian) Hemlock.
Swain County Heritage Museum (255 Main Street) at Soldier Monument in Bryson City between 10 a.m.–noon and Mark Watson Park at Constitution Square in Sylva from 2–4 p.m.
For more information please call Jackson and Swain County Extension Director Robert J. Hawk at 586-4009 or 488-3848, robert_hawk@ncsu.edu.