Swain County 4-H Clubs
Interested in being part of 4-H?
Joining a club is a great way for youth to get started!! Call 488-3848 for more information on where to begin!
West Swain 4-H Club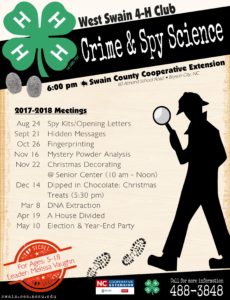 Regular club meetings will be held in the western part of the county. Youth learn about 4-H and study the world around them through science and nature. Youth will take on a greater leadership role in the club again this year. They will work in teams and with the club leader to learn and practice new crime & spy science experiments that they will later discuss and demonstrate to club members during meetings.
For youth ages: 5 – 18
Leader: Melissa Vaughn
2017-2018 Club Meeting Dates
3rd Thursday of each month (unless otherwise noted) from 6:00 pm – 7:00 pm at the Swain County Cooperative Extension Center
Theme: Crime & Spy Science – This club year we will investigate crime scenes and learn the skills necessary to become top detectives and solve mysteries!
Aug 24 – Spy Kits/Opening Letters
Sept 21 – Hidden Messages
Oct 26 – Fingerprinting
Nov 16 – Mystery Powder Analysis
Nov 22 – Christmas Decorating @ Senior Center (10:30 am-12) ~ Service Project
Dec 14 – Dipped in Chocolate: Make Christmas Treats (5:30 pm with Ms. Dee)
Jan 18 – Professor Whizzpop's Scientific Stunt Show (rescheduled for Sept 7)
Feb 15 – Cancelled
Mar 8 – DNA Extraction
Apr 19 – A House Divided
May 10 – Election & Spy Photo Booth Year-end Party
---
4-H Tangled Feet Stompers
Swain County 4-H's youth clogging group!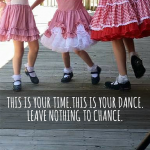 Join this fun energetic group of young people and learn some new clogging steps. Youth will also have the opportunity to participate in local clogging events and activities to show off their skills!
For youth ages: 5 – 18
Clogging Instructors: Kerry Cannon & Dee Decker
Clogging is FREE and meets on Tuesdays in the SCC – Swain Center auditorium.
5:00 pm Beginner Youth 4+
5:30 pm Intermediate Competition
6:00 pm Adult Intermediate
Call Dee Decker at 488-3848 for more information.
LIKE the Tangled Feet Stompers of Facebook
---
Butterfly and Garden Club
For Ages 9-18
Instructor: Jennifer Hill
Come join us for some fun while we learn about agriculture, gardening and becoming citizen scientists. Some of our plans include planting a Butterfly Garden at the County  Administration Building where we will become citizen scientist and log data to monitor and identify butterfly species as well as planting a vegetable and butterfly garden at the SCC Swain Center and an edible and medicinal herb garden on the NOC campus.
Location of club meetings will vary, please call, 488-3848, for details.
Meeting Time: 4:00 pm – 5:00 pm
2018 CLUB DATES
March: 13 & 27
April: 3 & 17
May: 1, 15, & 29
June: 5, 12, & 26
July: 3, 17, & 31
August: 7, 14, & 28
September: 4, 11, & 25
October: 2, 16 & 30
November: 6, 20 & 27
December 11
---
4-H Shooting Sports Club
For Ages 9-18
Meetings are every Thursday
5:00 pm
Smoky Mountain Bait & Tackle Shooting Range
Swain County 4-H is excited to be offering Rifle, Archery and Hunting Skills for youth ages 9 to 18! Meetings are led by trained volunteers and meet every Thursday, alternating between Rifle and Archery, at the Smoky Mountain Bait and Tackle shooting range.
The Hunting Skills Outdoor Club will meet on varying Saturday dates each month. Youth may bring their own equipment but it must be safe for use and the correct size. Contact Jennifer Hill, at 488-3848, for more details.
---
4-H Livestock Club
For Ages 9-18
Would you like to raise an animal, learn how to care for it, show it at the fair, and more? All animals, including backyard livestock, can be involved. We'll begin by learning about Sheep, Poultry, and Rabbit. Animals are not required for participation. Family involvement highly recommended.
2018 Dates:
March 29
May 3
June 7
July 5
August 2
September 6
October 4
November 1
December 6
Other dates and activities may be added throughout the year.
Call Jennifer Hill at 488-3848 for more details.
---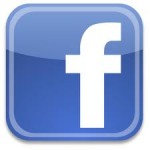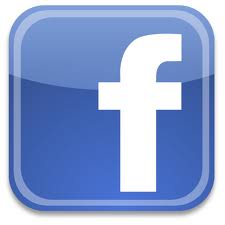 ---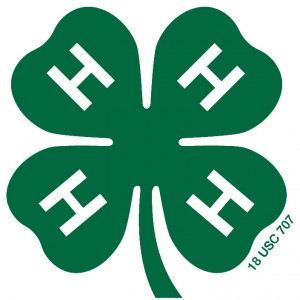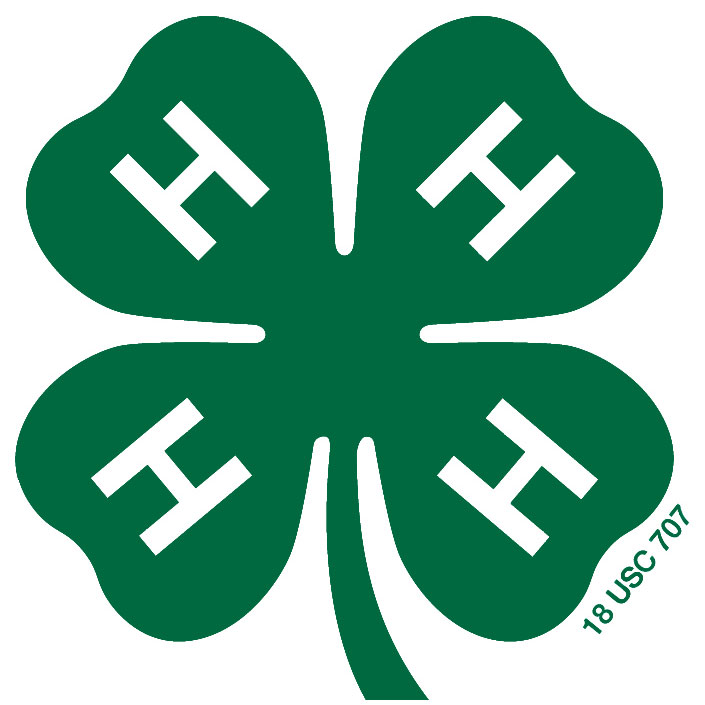 Participation in 4-H activities helps youth gain assets critical to positive youth development: character, connection, caring, competence, confidence and enable them to contribute to their communities through service and leadership.
If your child is interested in joining 4-H, please call 488-3848 or come by our office for more information.
Check out Swain County 4-H on Facebook – for the most up-to-date happenings!!
4-H Enrollment
Medical Release
Media Release
Code of Conduct
Was the information on this page helpful?